You Can Help...Please Vote!!!
Hello everyone! Yes, I'm still ALIVE and well...I know, what a surprise! Seems like forever since I have been on dA or even had the opportunity to take any pictures over the last year...hopefully, that changes soon, cuz I miss you guys and all your wonderful artwork! It's funny how real life seems to interfere with fun things. Well, that needs to change because Fall is coming and that is my absolute favorite season to take pictures...hopefully I can get out to shoot something pretty! In the meantime, I have a favor to ask all my wonderful dA friends.
It's time again for the Pepsi Refresh Challenge! This year I'm asking that you support a very worth while organization called the PUPPY RESCUE MISSION. Please feel free to check them out on Facebook.
[link]
are currently in 18th place...your vote can help make the difference.



[link]



By clicking on the link above, you can help support this groundbreaking program which helps fund the transport to the United States of the dogs our soldiers have raised and fallen in love with while serving our country overseas. The Puppy Mission Rescue is dedicated to doing just that...Not leaving any soldier without his loving, trusted companion. Some dogs have saved soldiers' lives but are left behind when the troops leave, Puppy Mission Rescue is dedicated to make sure that doesn't happen. Please help support our country and troops by supporting this wonderful mission. There is absolutely NO cost to you, all it takes is a few moments of your time! The top two most voted for ideas will be the recipients of $25K in funding from Pepsi Cola Company.
This year it's even easier to vote, too! You can either vote directly at
[link]
or...Three other ways you can vote:
■ From your Facebook account
■ Set up a login with Pepsi or
■ Text from your mobile phone. Text* 108610 to Pepsi (73774) to vote. *Standard text messaging rates apply.
Also be sure and gather your "Power Votes" by getting yellow caps from Pepsi products and from the cartons of 12 and 24 packs that are marked "Power Votes" and the code is inside the carton.
It doesn't matter how you choose to vote, just vote! Let's show our support for this wonderful cause, and let our troops know we care. Rules are, you can vote once a day for the next 21 days. All it takes is a simple click of your mouse to make this idea happen...the rest is funded by Pepsi. "It's so funny how something as simple as a puppy can make even the hardest, toughened soldier melt upon a few kisses to the face." Puppy rescue's mission is simple. They want to help soldiers bring their battle buddies home. No man or dog should be separated and left behind!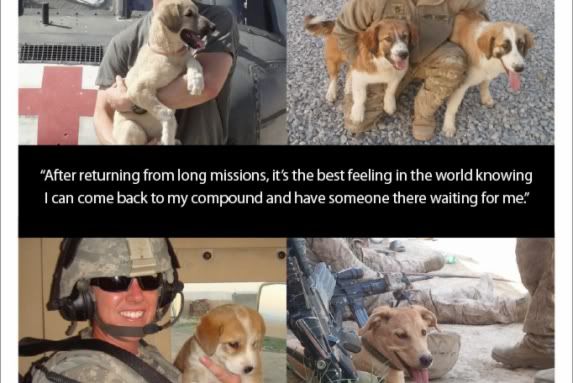 What are you waiting for...Go vote, please! Bring home the dogs our soldiers adopted and loved while serving in Afghanistan...let's show them we care!
Thank you!